Peaceful + Present with Christie Wolfe and Ayn Devera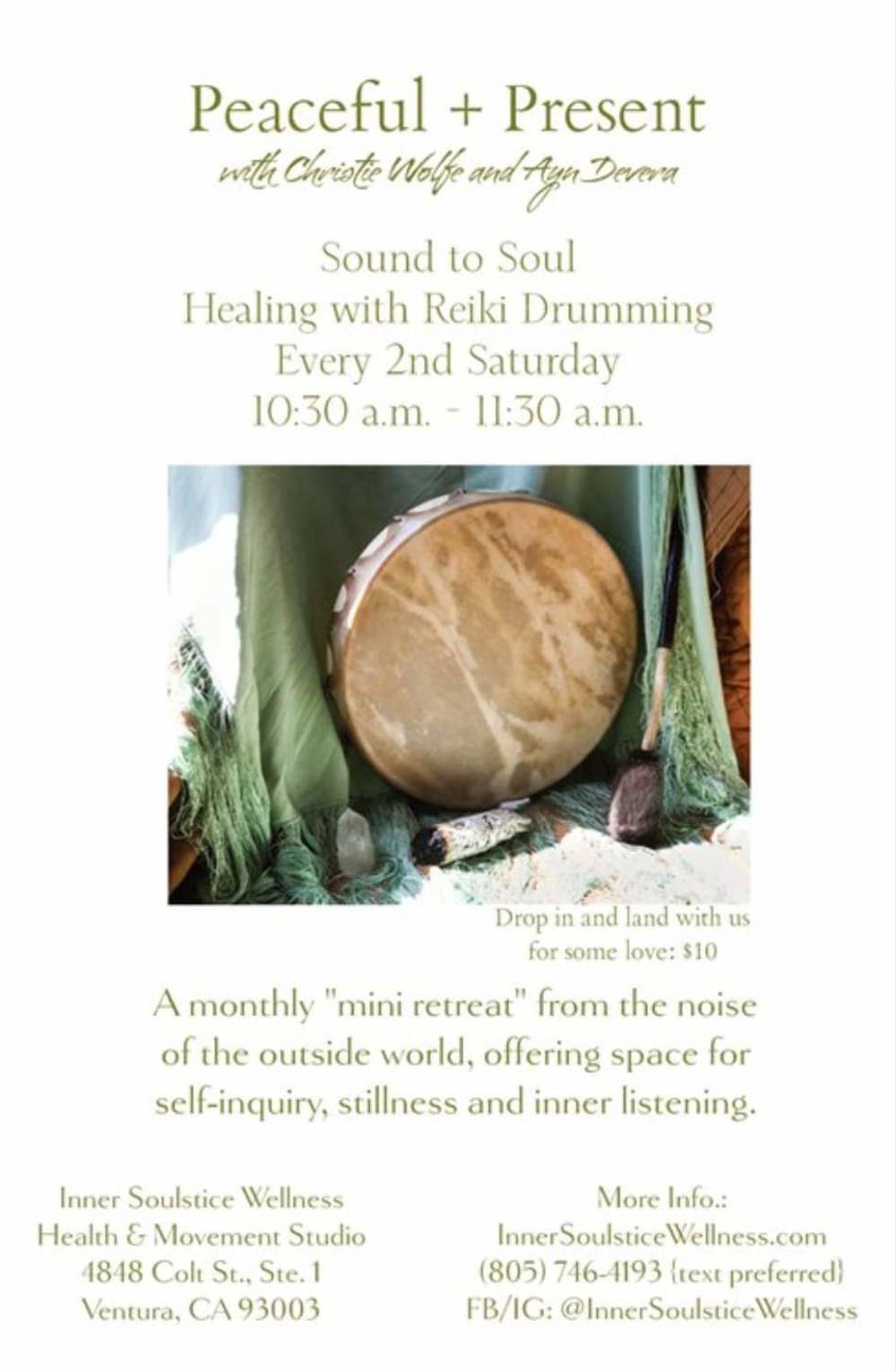 Dates/Times
Saturday, Jul 13, 2019 @ 10:30am
Saturday, Aug 10, 2019 @ 10:30am
Saturday, Sep 14, 2019 @ 10:30am
Saturday, Oct 12, 2019 @ 10:30am
Saturday, Nov 9, 2019 @ 10:30am
Saturday, Dec 14, 2019 @ 10:30am
Humans have an ancient and primal connection to the beat of the drum, being that it is one of the oldest forms of vibrational healing on this planet. Drumming connects us with the natural pulse of life, our heartbeat, and the pulse of mother earth; everything in existence has a rhythm. By drumming we entrain our bodies to the greater rhythm of life.
$10 Cash Only Gently Requested at the Door
Benefits of drumming
Boost the immune system
Redue stress
Reduces tension and anxiety
Helps with depression
Helps heal trauma and release emotional blockage
Induces synchronous brain activity (Creating connection between hemispheres)
Connect more deeply with your own body.
About the Instructor - Christie Wolfe, LMT, Reiki Master
Christie Wolfe is a Licensed Massage Therapist and Reiki Master, whose studies in Philosophy and Medical Anthropology led her to explore shamanism, through the Peruvian Munay Ki and Medicine Wheel practices. When she took a course that combined Reiki with drumming, she discovered a practice that combined both her energy and shamanism experiences in a transformative and potently healing way. She shares this alchemy in her classes, bringing pure joy and presence through drumming.
FAQs
What can I bring to the event?
We have mats for a $2 rental fee. To ensure your comfort, please feel free to bring your own. Socks encouraged.

Please read our Facility Terms of Use