PAST EVENT: 10/07/17 Restorative Yoga and Loving-Kindness Meditation with Mimi Nelson Oliver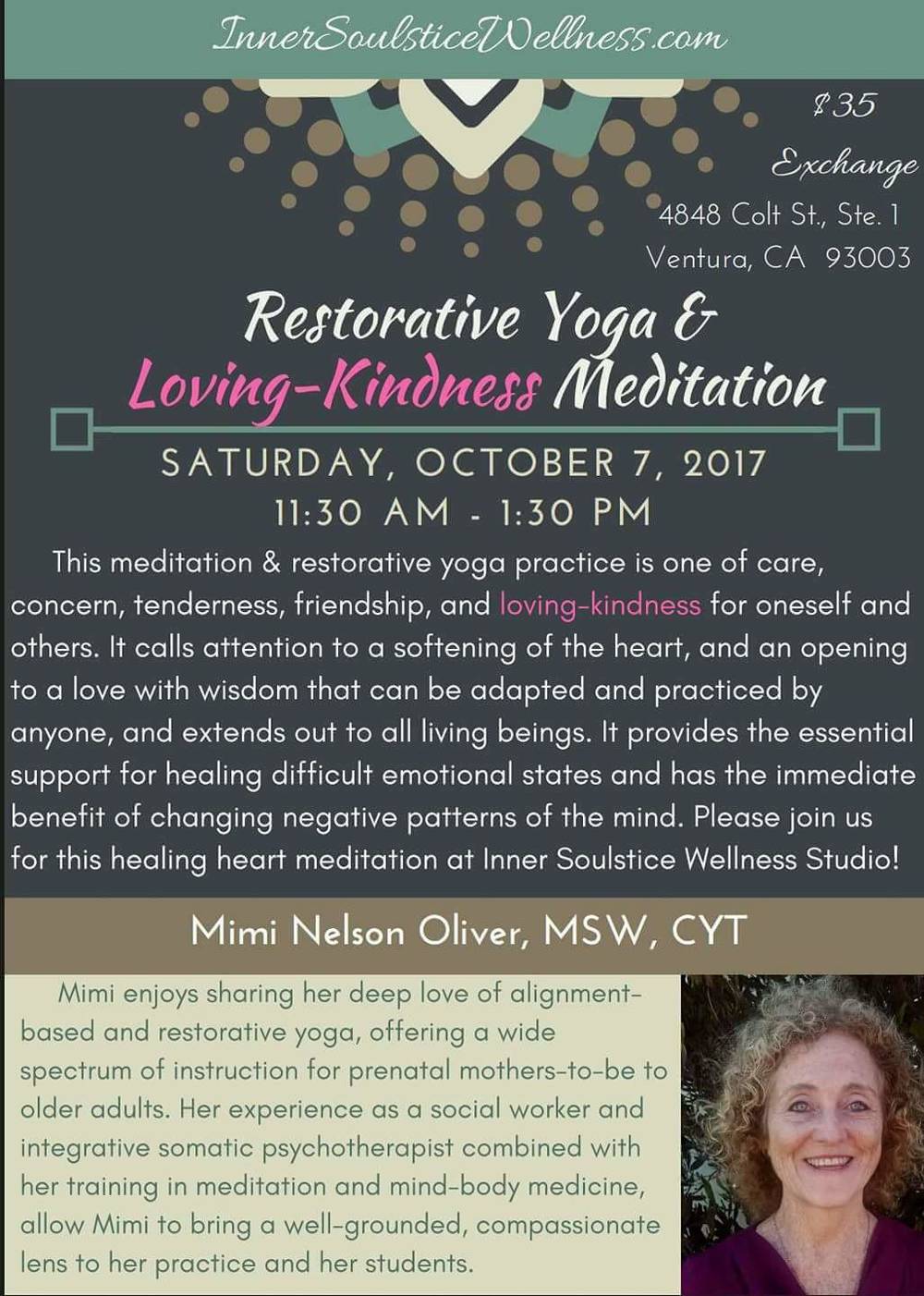 Restorative Yoga and Loving-Kindness Meditation/ A quiet afternoon of deep rest and relaxation
Come away for a sweet afternoon in a restful setting where you'll slow down, dive deep into your warm-hearted, peaceful self and come away feeling blissfully rested and spiritually inspired.
All levels welcome. No experience needed.
Our time together will include:
-A guided Loving-Kindness meditation to find the quiet and still place that is the center of your being– a realm full of gentle knowing, deep peace, and true happiness, where your true self resides. Then we'll extend loving friendliness to ourselves, others who are special to us, and outward until we include all living beings and the planet itself.
-Restorative Yoga, where you simply relax with pillows and bolsters allowing the body to feel supported and calm as we let go into our own basic goodness. Here, we quiet the fears, insecurities and habits that we all develop in our lives. Gradually, each supportive posture melds with the meditative phrases of Loving-Kindness, softening your mind, body and heart, and opening you to deep levels of pure love.
Health Care Providers/Emergency Responders: $25
*Please have a light, nutritious meal beforehand that will keep you nourished for the practice.
*Dress comfortably, bring water, and a mindful snack for refueling.
*Fresh-brewed tea will be served.
Payment must be made in advance to secure your place. Space is limited.
About the Practice of Loving-Kindness Meditation:
This meditation & restorative yoga practice is one of care,concern, tenderness, friendship, and loving-kindness for oneself andothers. It calls attention to a softening of the heart, and an openingto a love with wisdom that can be adapted and practiced byanyone, and extends out to all living beings. It provides the essentialsupport for healing difficult emotional states and has the immediatebenefit of changing negative patterns of the mind. Please join usfor this healing heart meditation at Inner Soulstice Wellness Studio!
Your Teacher: Mimi Nelson Oliver, MSW, CYT
Mimi enjoys sharing her deep love of alignment-based and restorative yoga, offering a widespectrum of instruction for prenatal mothers-to-be toolder adults. Her experience as a social worker andintegrative somatic psychotherapist combined withher training in meditation and mind-body medicine,allow Mimi to bring a well-grounded, compassionatelens to her practice and her students.