Teaching Yoga for Substance Abuse Disorder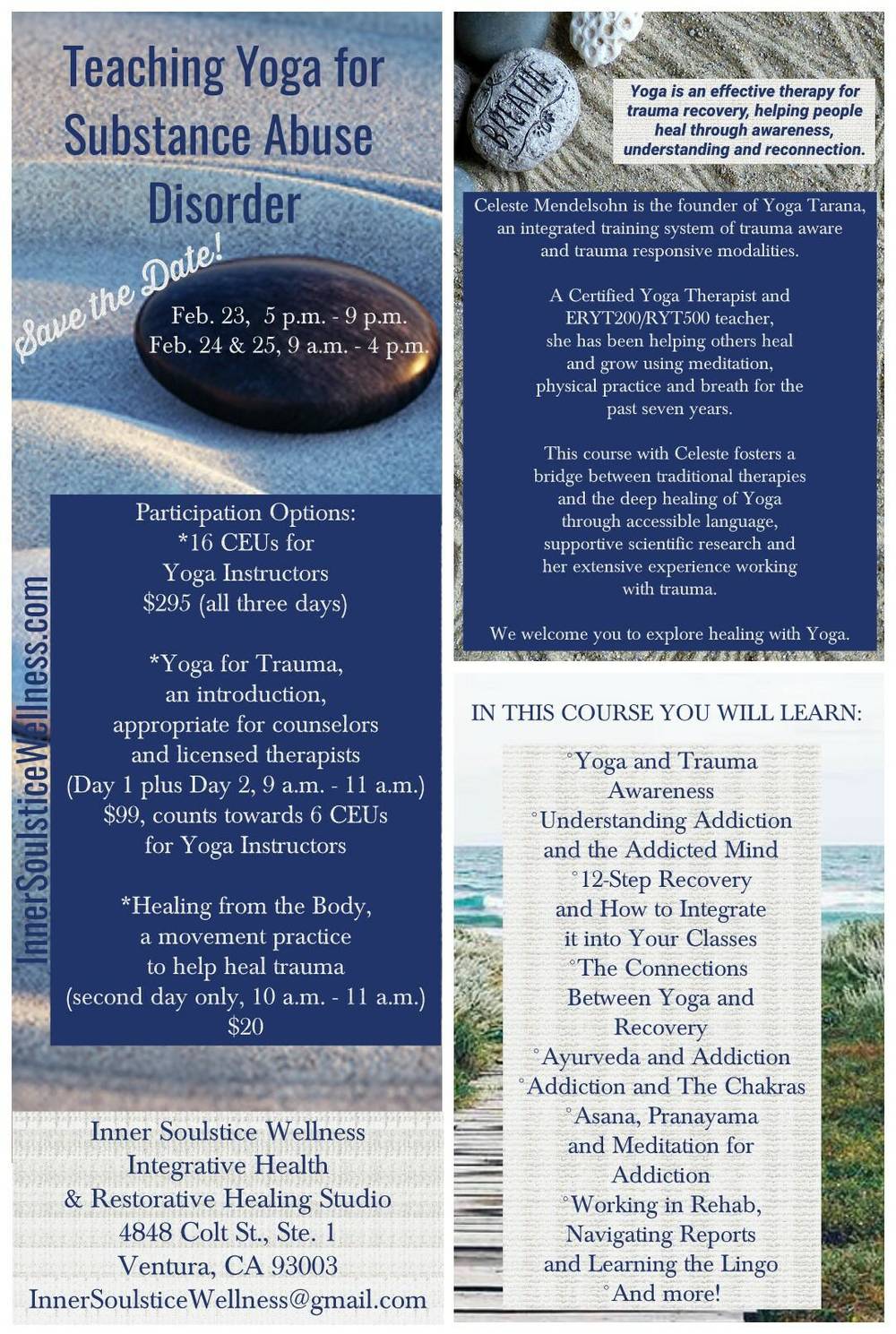 This course with Celeste fosters a bridge between traditional therapies and the deep healing of Yoga through accessible language, supportive scientific research and her extensive experience working with trauma. We welcome you to explore healing with Yoga.
Celeste Mendelsohn is the founder of Yoga Tarana, an integrated training system of traum aware and trauma responsive modalities. A certified Yogat Therapist and ERYT200/RYT500 teacher, she has been helping others heal and grow using meditation, physical practice and breath for the past seven years.
In this course you'll learn:
*Yoga and Trauma Awareness
*Understanding Addiction and the Addicted Mind
*12-Step Recovery and How to Integrate it Into Your Classes
*The Connection Between Yoga and Rcovery
*Ayurveda and Addiction
*Addiction and the Chakras
*Asana, Pranayama and Meditation for Addiction
*Working in Rehab, Navigatig Reports and Learning the Lingo
*And more!
Participating Options:
*16 CEUs for Yoga Instructors
$295 (all three days)
*Yoga for Trauma, an introduction appropriate for counselors and licensed therapists
(Day 1 plus Day 2, 9 a.m. - 11 a.m.)
$99, counts towards 6 CEUs for Yoga Instructors
*Healing from the Body, a movement practice to help heal trauma
(Second day only, 10 a.m. - 11 a.m.)
$20
Registration info coming soon.
Questions? Email us at InnerSoulsticeWellness@gmail.com