Yoga for a Healthy Body: Roots to Hips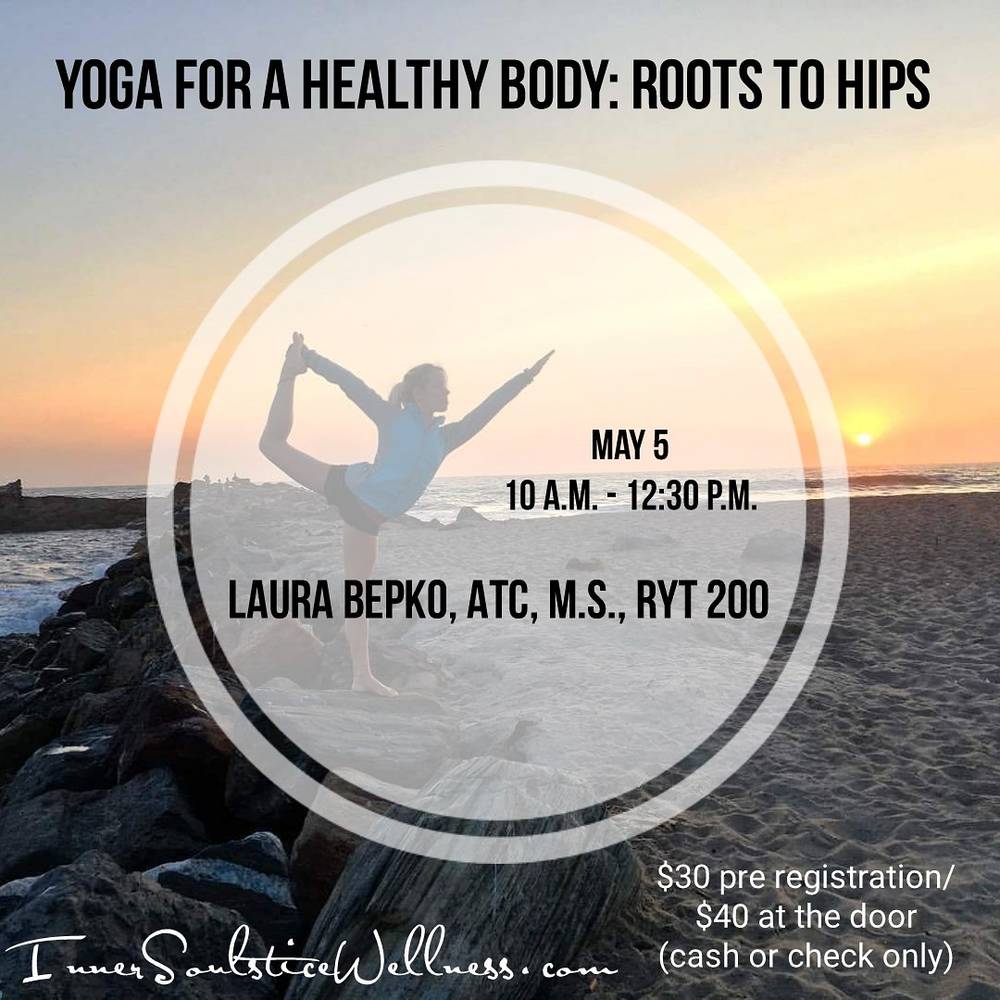 The hips, knees, ankles and lower body in general, provide us connection to the earth, awareness of our emotions and strong, flexible foundations to stand upright and move and adapt efficiently to our surroundings. This workshop is designed for those new to yoga, with an injury or who just want to deepen their practice into the lower body. You'll learn about the anatomy, physiology, bio-mechanics and energetic principles of what keeps you rooted to the earth and to yourself.

We'll start with breathing exercises to connect to the body and increase awareness. Then we'll talk about anatomy and learn about what we're working with. We'll continue into a gentle warmup to move and lubricate the joints. We will then get into some subtle exercises to unlock tension locked up in the pelvis and hips. Traditional yoga postures will follow to teach standing balance, strength and modifications. Lastly well take it down into some restorative postures to further open and relax into the newly created space and end with a meditative savasana.

$30 pre registration/ $40 at the door (cash or check only)
Make your reservation now.

About Your Teacher: Laura Bepko ATC, MS, RYT-200
Laura became a Certified Athletic Trainer in 2014 after completing a BS in Athletic Training from James Madison Univerisy and went on to gain a Masters in Kinesiology from California State University, Northridge. The main focuses of her university studies were sports injury and rehabilitation, biomechanics, sport psychology. While attending school Laura worked with a wide spectrum of divison I athletes taking care of their injuries. In 2016 She completed her research creating a breathing guide for athletes to become aware of and train the respiratoy system for efficiency at rest and sport. Since then breathing has become a passion an topic Laura continues to study and lead workshops on. After graudating in 2016, Laura traveled to Peur to study yoga and recieve her 200 hour regitered yoga teacher certification. Since returning and moving to beautiful Ventura, California Laura found work in a physical therapy clinic educating patients about their injuries and how to safely and efficenetly rehabilitate their condition. She also brings yoga to patients with Parkinsons and previous strokes and enjoys working with those that believe they "can't do yoga", In her free time Laura enjoys growing her own personal practice through asana and mediation, surfing, reading, long distance minimalist running and long beach days.
FAQs
What can I bringto the event?
We have mats for a $2 rental fee. To ensure your comfort, please feel free to bring your own. Socks encouraged.

Please read our Facility Terms of Use