Mindfulness Meditation Ventura, with Audrey!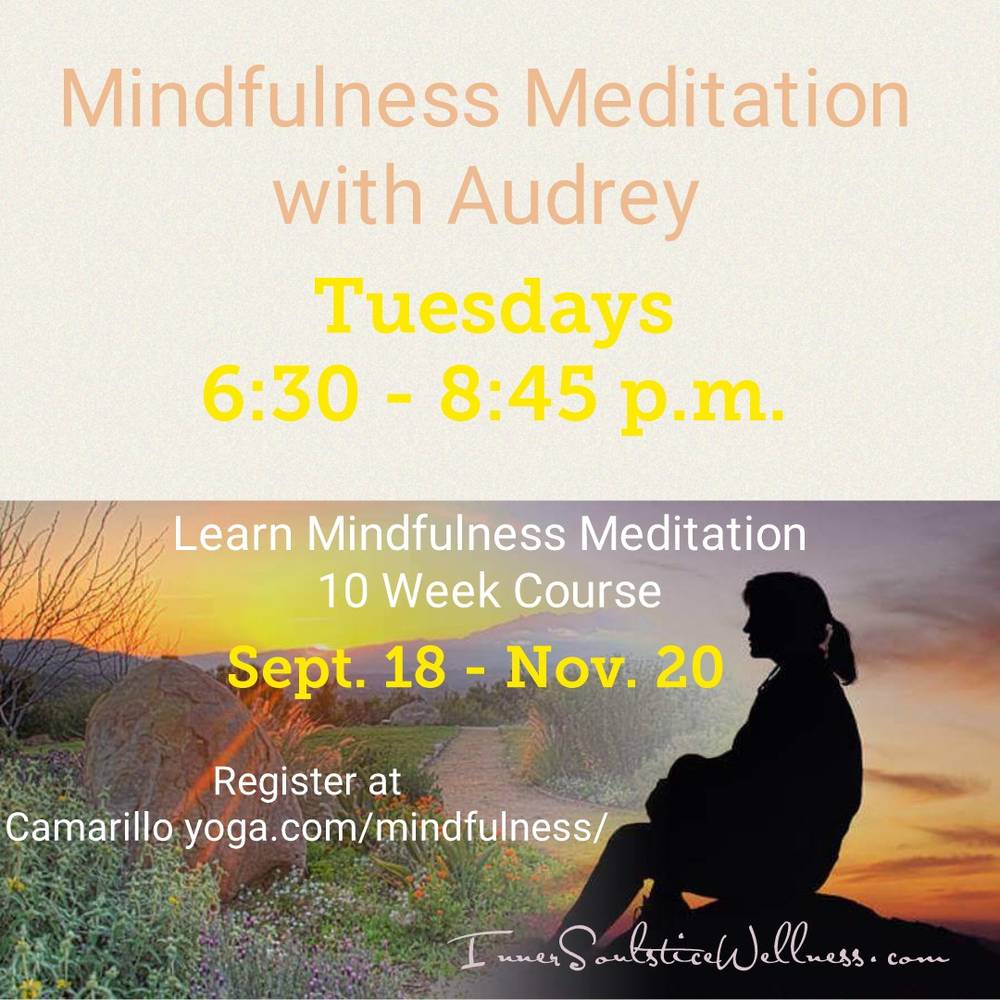 Dates/Times
Tuesday, Sep 18, 2018 @ 6:30pm
Tuesday, Sep 25, 2018 @ 6:30pm
Tuesday, Oct 2, 2018 @ 6:30pm
Tuesday, Oct 9, 2018 @ 6:30pm
Tuesday, Oct 16, 2018 @ 6:30pm
Tuesday, Oct 23, 2018 @ 6:30pm
Tuesday, Oct 30, 2018 @ 6:30pm
Tuesday, Nov 6, 2018 @ 6:30pm
Tuesday, Nov 13, 2018 @ 6:30pm
Tuesday, Nov 20, 2018 @ 6:30pm
"Mindfulness occurs when we wake up from the automatic pilot of our habitual mind. We notice where our attention is in any given moment and decide whether keeping it there serves us. Intentionally we observe our present moment experience more objectively, with interest, receptivity, and curiosity. From here we find the space to respond to whatever life throws at us, rather than react mindlessly from our conditioned habits and assumptions. With practice, Mindfulness helps us to truly live our life, rather than be lived by it." Audrey Walzer
The common experience of people who think "I really should meditate" is to feel frustrated and unsuccessful when they try it. "I tried meditation once, and I just couldn't clear my mind." This can make you feel like there is something wrong with you, that everyone else "gets it", but you don't. However, this is because the underlying assumption is incorrect: Meditation is not a magic mind-clearing trick. Mindfulness Meditation gives us tools to work with the mind wandering, the thoughts, feelings and bodily sensations that naturally arise for everyone when we finally take time out of the frantic rush of our lives to be present to ourselves and our experience right now. When we apply the tools of Mindfulness on a regular basis — when we actually practice, as opposed to reading a Facebook article about it, we become more emotionally resilient and aware, so even in the face of difficulties we feel a sense of deep inner calm, both in formal meditation practice, and in our lives all day long. This sense of deep equanimity and joy at being alive, within the inevitable ups and downs of our humanness, is truly the gift of Mindfulness Meditation.

About your facilitator:
Audrey Walzer has taught thousands of Ventura County residents, from all walks of life, how to live with greater ease and happiness with Mindfulness.Her classes combine in-class support and teaching with structured home reading and meditation practice, so that Mindfulness becomes fully integrated into your life.
10 Week Course: $225
Includes: 2 textbooks, 17 meditation downloads, 1 free month of yoga (optional)
Register now
What can I bring to the event?
We have mats for a $2 rental fee. To ensure your comfort, please feel free to bring your own. Socks encouraged.